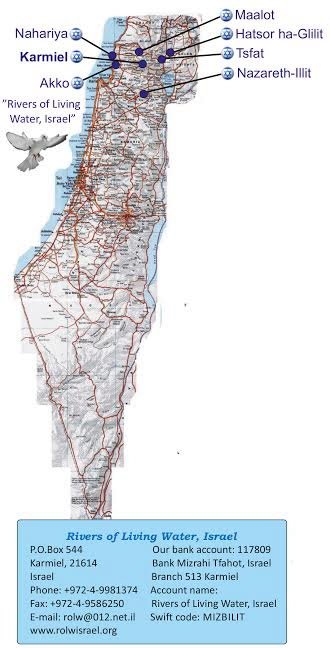 "Behold, I will bring them from the north country, and gather them from the coasts of the earth, and with them the blind and the lame, the woman with child and her that travaileth with child together: a great company shall return thither. They shall come with weeping, and with supplications will I lead them: I will cause them to walk by the rivers of waters in a straight way, wherein they shall not stumble: for I am a father to Israel, and Ephraim is my firstborn. Hear the word of the LORD, O ye nations, and declare it in the isles afar off, and say, He that scattered Israel will gather him, and keep him, as a shepherd doth his flock."
Jeremiah 31:8-10
We live in awesome times. Times when the prophesies are coming true.
In 1948 the nation of Israel was reborn as a nation again as it was prophesied.
God is truly gathering His people from all over the world, especially from the north – ex-Soviet Union.
"Rivers of Living Water, Israel" was established in 1996 as a non-profit organization with mail goals:
✡ to show the love of God and bring Good News to the people of Israel;
✡ to bless and assist by any kind of humanitarian aid aliya - Jews, who are coming back to live in Israel.
The main office, congregation and humanitarian center is in Karmiel city. There are 2 more congregations and humanitarian aid centers in other cities of Galilee: Akko, Maalot, Hatsor, Tsfat and Nazareth-Ilit.